In a sit-down, conversational interview on stage with President Jerry Falwell, Jr. and Vice President for Communications Johnnie Moore, Palin talked about her motivation to keep standing for "time-tested truths" — the same truths Liberty upholds — when she is attacked by the mainstream media for her conservative views.



"This is what inspires me — you," she told the arena of more than 10,000 students. " … What inspires me and allows me to keep going and standing strong is being in a place like this."
A great question and answer session at Liberty University. Governor Palin talks about being a force for good in the world, and having a strong grounding in the Christian faith. This is definitely worth your time and reflection on a COLD winter day:
Read more about the event here.
The Politics of Emotion and the Role of Government | A Time For Choosing
Instead of leaders who offer real solutions, we have leaders who practice the politics of emotion. Now, emotion is a good and necessary thing, but we have politicians exploiting emotion for their own agenda. […] Emotion won't make anybody safer. Emotion won't protect the good guys' rights, and emotion is not leadership. The politics of emotion? It is the opposite of leadership. It is the manipulation of the people by the politicians for their own political ends.
Read more...
By Amity Shlaes

Author: Coolidge
The following is adapted from a talk given at Hillsdale College on January 27, 2013, during a conference on "The Federal Income Tax: A Centenary Consideration," co-sponsored by the Center for Constructive Alternatives and the Ludwig von Mises Lecture Series.
WITH THE FEDERAL DEBT spiraling out of control, many Americans sense an urgent need to find a political leader who is able to say "no" to spending. Yet they fear that finding such a leader is impossible. Conservatives long for another Ronald Reagan. But is Reagan the right model? He was of course a tax cutter, reducing the top marginal rate from 70 to 28 percent. But his tax cuts—which vindicated supply-side economics by vastly increasing federal revenue—were bought partly through a bargain with Democrats who were eager to spend that revenue. Reagan was no budget cutter—indeed, the federal budget rose by over a third during his administration.
An alternative model for conservatives is Calvin Coolidge. President from 1923 to 1929, Coolidge sustained a budget surplus and left office with a smaller budget than the one he inherited. Over the same period, America experienced a proliferation of jobs, a dramatic increase in the standard of living, higher wages, and three to four percent annual economic growth. And the key to this was Coolidge's penchant for saying "no." If Reagan was the Great Communicator, Coolidge was the Great Refrainer.
President Obama's Anti-Keystone Cronies | A Time For Choosing
Last week the State Department released a report indicating the Keystone XL pipeline would have little impact on the environment and would create more than forty thousand jobs during construction. With this news (confirming what we already knew), why isn't the Obama administration moving forward on developing this pipeline? Because regardless of whether or not the pipeline is built, his cronies stand to benefit. It is already widely known that Obama crony Warren Buffett has gained from the lack of construction on the pipeline. Without the presence of pipeline, much of the oil developed in the Canadian oil sands are transported by train. Per Bloomberg...
Read more...
By Gary P Jackson
Sarah Palin has talked about she and husband Todd's friendship with Chris Kyle. Not only did Todd and Chris compete on the NBC show Stars Earn Stripes to raise money for charity, Chris worked security in Pella, Iowa at the world premier of the Steven K Bannon film The Undefeated. Todd and his partner Scott Davis dedicated this year's Iron Dog race, a nearly 2000 mile endurance run through Alaska's frozen wilderness, to the memory of Chris Kyle.
Over the weekend Sarah posted a note on Facebook about Todd's strong finish, and noted he was donating his winnings to the Chris Kyle Memorial Trust.
Finished strong in the Iron Dog! Todd just told me, "Along with the competition, this was another great trip across Alaska seeing old friends in villages. Honored to have a picture with Alaska's famous elder, Sydney Huntington. (He's the one who gave us the quote, 'Common sense is an endangered species in government.') I'm overwhelmed by the hospitality and support shown to us in each town and village. I love these folks. It was a rough and tough race, but I'm glad we were able to finish, and I kept in mind I was racing in honor of our fallen warriors who secure our freedom."

Todd's race winnings are donated to The Chris Kyle Memorial Fund. For the kids and me, we're proud of our Iron Dogger, especially his dedication to family and freedom.
Here's some video of Todd and Scott at the start of the Iron dog, courtesy of Larry Taylor: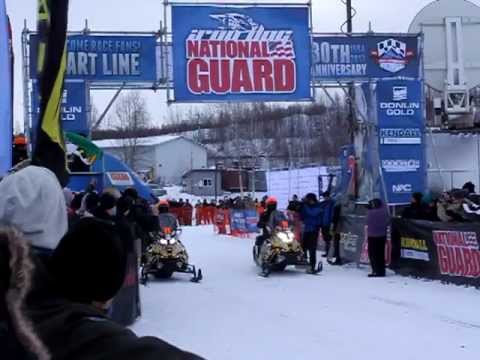 Sarah posted this photo of her and Willow waiting for Team 11 to make it to the finish line. You can find more photos on her Facebook page, here.
If you'd like to donate to the Chris Kyle Memorial Trust please click here.
By Gary P Jackson
Dr Gina Loudon joins Neil Cavuto and Scott Slater discussing President Obama's latest threat to the American people. Not wanting to make any serious budget cuts, Obama is threatening to cut meet inspections, if budget cuts are forced on him. In other words, Dear Leader Obama is holding America's food safety hostage. Despicable.
Dr Gina pulls no punches as she rips into Obama's "socialist salad bar agenda."...